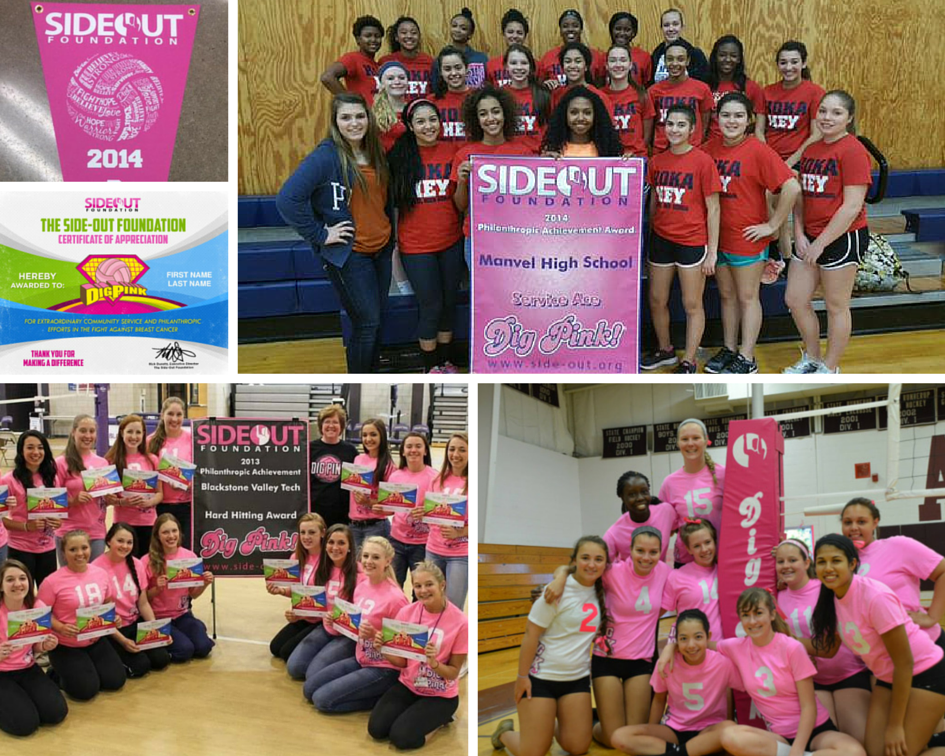 The Side-Out Foundation is proud to offer awards to teams, organizations and individuals that support Side-Out through Dig Pink. Award eligibility is based on organization type (school/club/tournament) and funds raised. For campaigns involving more than one team (such as tournaments) awards will be decided on a case by case basis.
Below are details and DEADLINES about the different awards available.
Dig Pink® Awards (
Donations Due Dec. 1st

)
DIG PINK® BANNERS
Teams that meet certain fundraising minimums will receive a 2.5' x 4' banner customized with your school's name and award classification based on the fundraising levels listed below.
Dig Pink® Poster — minimum of $500
Service Ace Award — minimum of $1,500
Hard Hitting Award — minimum of $5,000
Above the Net Award — minimum of $10,000


DIG PINK® PADS & NET TAPE
Sports Imports has partnered with The Side-Out Foundation to provide the top fundraising team with Dig Pink® safety pads to keep!
The next four fundraising teams/schools will be provided net tape to keep.

AVCA MEMBERSHIPS
The American Volleyball Coaches Association (AVCA) is giving away FREE AVCA Coaches Memberships to teams who host a Dig Pink® campaign! Memberships are based on the funds donated to The Side-Out Foundation. Coaches can have access to all that the AVCA has to offer at no cost!
High School/Middle School Teams
$1,500 raised 1 membership
$3,000 raised 2 memberships
$4,500 raised 3 memberships
NCAA Div II, III, NAIA, TYC, NCCAA & USCAA
NCAA Div II, III, NAIA, TYC, NCCAA & USCAA teams that raise $2,000 will receive one assistant coach AVCA Coaches Membership.
**Club teams and Division I programs are not eligible for AVCA Memberships at this time.**
AVCA Grand Prize (
Donations Due Nov. 15th

)

Two high school/middle school or assistant junior college coaches whose teams host a Dig Pink®️ campaign will be awarded the 2019 AVCA Grand Prize which includes: FREE AVCA Convention Registration, Airfare (if necessary), and NCAA Championship Match Tickets for this year's event in Pittsburgh, PA (Dec. 19 & 21)!

Coaches will be entered into the giveaway based on total funds received BY NOV 15th.
1 Grand Prize Entry — minimum of $1,500
2 Grand Prize Entries — minimum of $3,000
3 Grand Prize Entries — minimum of $4,500
The raffle will take place on NOVEMBER 16th, so get your funds in!
**Club teams and Division I programs are not eligible for AVCA Memberships at this time.**