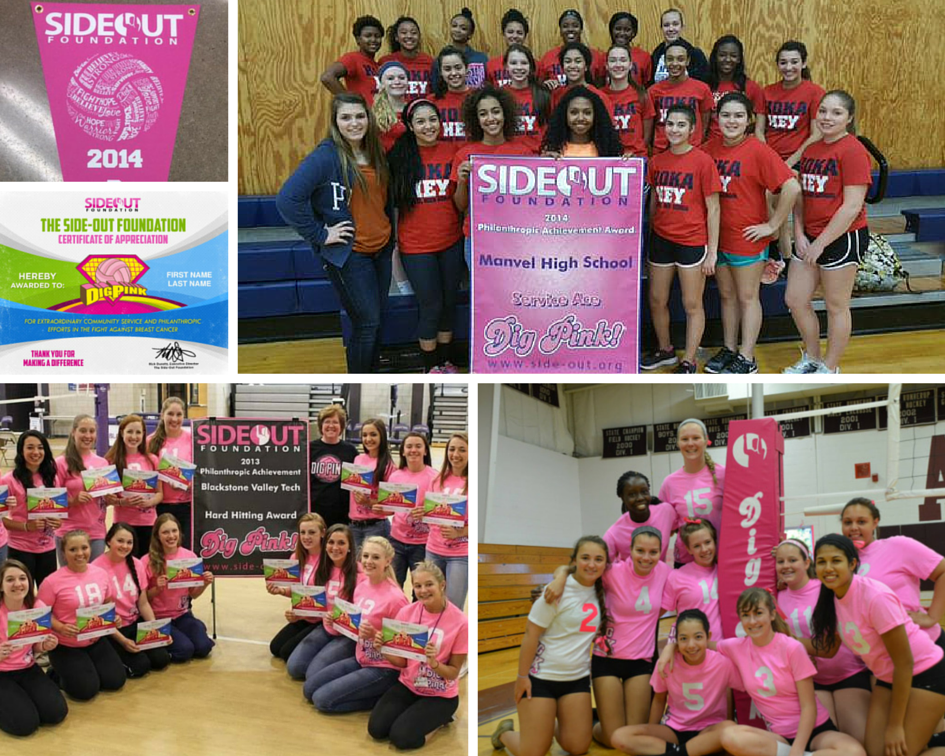 The Side-Out Foundation is proud to offer awards to teams, organizations, and individuals that support Side-Out through Dig Pink.
Below are details and DEADLINES about the different awards available.
Dig Pink® Awards
DIG PINK® BANNER (**NEW CONCEPT IN 2020**)
Dig Pink campaigns that fundraise a minimum of $1,000 will receive a 5-year Side-Out Foundation Dig Pink TOMORROW'S MATTER banner. The banner highlights the donation amount raised and your Impact Champion badge for each year. The badges represent Community Connection, Breast Cancer Education, and Fundraising. Your Impact Coach/Support Representative will send you the badge to add to your banner.
Once your campaign donations are submitted to The Side-Out Foundation you will receive an email from your Side-Out Impact Coach with the award banner claim link. Completing the claim form with your shipping address will be your final step in the award banner process.
PHILANTHROPIC AWARD LEVELS

$ 1,000+

$ 5,000+

$10,000+
IMPACT CHAMPION BADGE COMPONENTS


Community Connection

Breast Cancer Education

Fundraising

DIG PINK® PADS & NET TAPE - (

DONATIONS DUE MARCH 31st

)
Sports Imports has partnered with The Side-Out Foundation to provide the top fundraising team with Dig Pink® safety pads to keep!
The next four fundraising teams/schools will be provided Net Tape to keep.